Alongside the Autoresponders you can also send Email Broadcasts to your site members based on the products they have or have not purchased.
Note: Fast Member is not intending to replace a more sophisticated email marketing system such as Active Campaign or Aweber, and will not give you the level of analytics a more dedicated platform will offer.


The Fast Member Broadcasts exist to compliment those systems, giving you easy customisations within your messages based on your site content. It will serve as a useful notification system offering some features which those other systems may not be able to handle so easily.
How To Send a Broadcast Email To Your Site Members
Open the Broadcasts section. If you have any broadcasts scheduled they will be displayed at the top.

Select whether you want this broadcast to be sent to members who have or haven't purchased any of the products you wish to email your members about.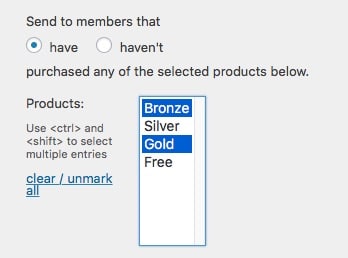 Select the products from the Product list. If you dont select a product the Broadcast message will be sent to all site members.
Next set the broadcast scheduling options.
You can choose to send ASAP, ie straight away. This will queue your broadcast using the cron job. You can view the cron job tutorial here
Or you can schedule for a date in the future from the date picker and timer. When selecting schedule it will show the current server time of when you opened the Broadcast section. Choose a time and date in the future.

Add a Subject

Add your message content. You can use the WordPress Classic post editor to format the message as you would with any other WordPress content adding headlines, image and links etc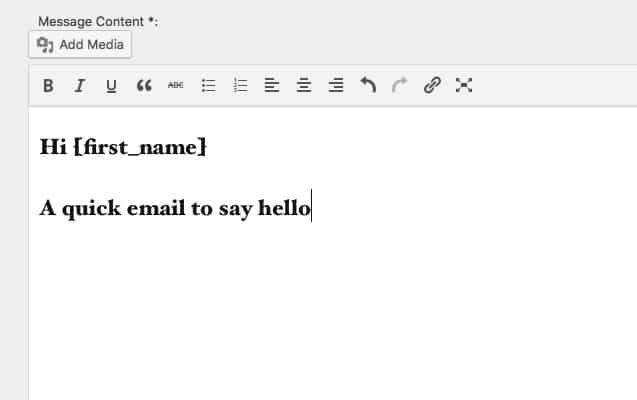 At the base of the email you will see some notes about tags which can be added. You can insert the following.
First Name – this will add the members first name to the message
Last Name – this will add the members last name to the message
Login – this will add the members login username to the message
Unsubscribe Link – this will add the unsubscribe link to the message

If you click on any of them they will be added to your content and will display the details when the email is sent.

You can also send a test message. When sending a test email it will save the current message and then send a test email to the address supplied.


Note: when sending a test message any customisation tags will not be rendered. Instead you will just see the tags as formatted in the message editor.

Once ready hit send. You will be taken to a page to confirm the successful scheduling of the broadcast message.