Affiliate links for the Fast Affiliate add on are created using the shortcode which is accessed from the green FastMember icon in the WordPress classic editor.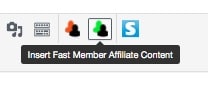 Select the content type as Affiliate Link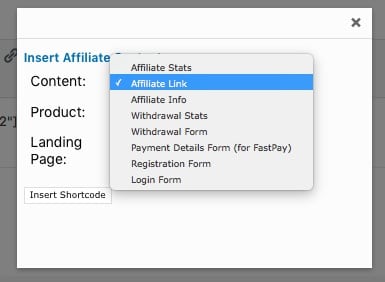 2. Select either all products or a specific product.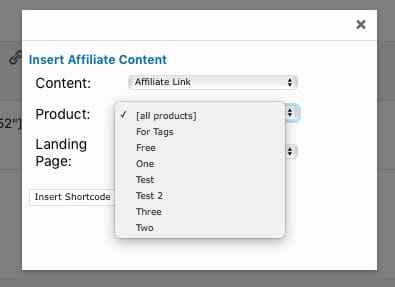 Choosing a specific product will not restrict your affiliate to only promoting this product as once they are a member of the site they will be able to promote any product and receive commissions for their efforts.

Instead setting a specific product allows you and your affiliates to track how many hits this particular product is receiving. Knowing this will also let you see the conversion rate and EPC figures for each of your affiliates on those particular products.
3. Choose the landing page the visitor will be directed to when they click the affiliate link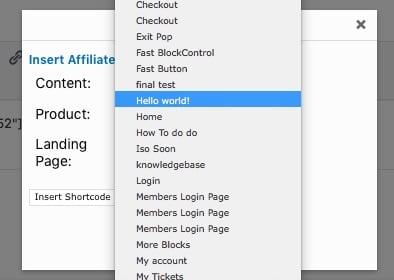 Once you have chosen the options hit the Insert Shortcode button. This will generate a Shortcode similar to this one

[[fastmemaff chunk="link" product="3" page="52"]]
product="3″ is the Fast Member product ID
page="52″ is the WordPress post ID of the chosen landing page
Quick Tip: If you already know the product ID and page ID then you can simply copy the above Shortcode and paste straight into your site content while making those changes
When your affiliate is logged in and visits the page with the shortcode added a link with will be visible which has their Affiliate ID automatically added which will look similar to this on your site.
https://yoursite.com/landing-page/?afastmema=321&pid=3
The page url is taken from the permalink of the WordPress page ID and the affiliates ID is added to the url as a query string followed by the product ID
afastmema=321 is the affiliate ID parameter with 321 being the WordPress user ID of the affiliate. This ID will be automatically generated for the logged in user.
pid=3 is the product ID parameter and is set within the Shortcode.